In March, 2018, Zcash (ZEC) community announced a network upgrade plan named "Overwinter". As the time comes near, the topic of Overwinter grabbed much attention from miners. Now Poolin.com will explain to you more about Overwinter hardfork.
Primary Concern for Miners
Q: Can we still use current mining rigs to mine ZEC after upgrade?
A: Yes, of course. The upgrade does not change ZEC's PoW mechanism and its Equihash algorithm and what has been upgraded will not affect mining for the rigs.
Q: Any manual operation needed before this upgrade?
A: Poolin.com mining pool has fully prepared for the upgrade and miners do not need to take any manual operation.
Q: Will mining earnings be affected during upgrade?
A: Theoretically, mining earnings will not be affected.
Overwinter Hardfork
ZEC will undergo "Overwinter" hardfork at block height 347500, estimated to be around UTC 0:30 am on June 26th, 2018. The upgrade mainly includes the following four points:
Transaction Signature Verification: a new transaction digest algorithm for signature verification from the Overwinter network upgrade is defined, in order to minimize redundant data hashing in verification, and to cover the input value by the signature;
Transaction Expiry: a new consensus rule is set for an expiration time after which a transaction cannot be mined. If it is not mined within that time, the transaction will be removed from nodes' mempools.
Replay Protection: new network upgrade mechanism and peer management are proposed to ensure smooth network upgrade and reduce possible risks.
Transaction Format: transaction format is optimized by adding some fields like transaction expiry, Group ID.
The upgrade intends to improve ZEC's transaction transparency, strengthen future network protocol, and then get fully prepared for next upgrade named "Sapling" (expected to take place in October, 2018) and finally fulfill the target of shielded transactions.
Brief Description for ZEC
Zcash, also named ZEC, aims to protect the privacy of transaction using the zero-knowledge cryptography under the condition of hiding the sender, recipient, and value on the blockchain. The total issuance amount is 21 million, and it is using the Equihash encryption algorithm. Currently, the block reward is 12.5 ZEC/block. Excluding 20% of the reward for community contributors, miners can get around 10 ZEC/block for mining.
Up to UTC time 14:00 21st June 2018, the cap value of ZEC was nearly USD 800 million, ranking top 22 in all digital currencies. Currently, nearly 4.2 million were mined out. The network hashrate is around 643.40M, and 1 ZEC is equal to around USD193.11.Poolin.com supports ZEC mining with high actual earnings leading the whole network.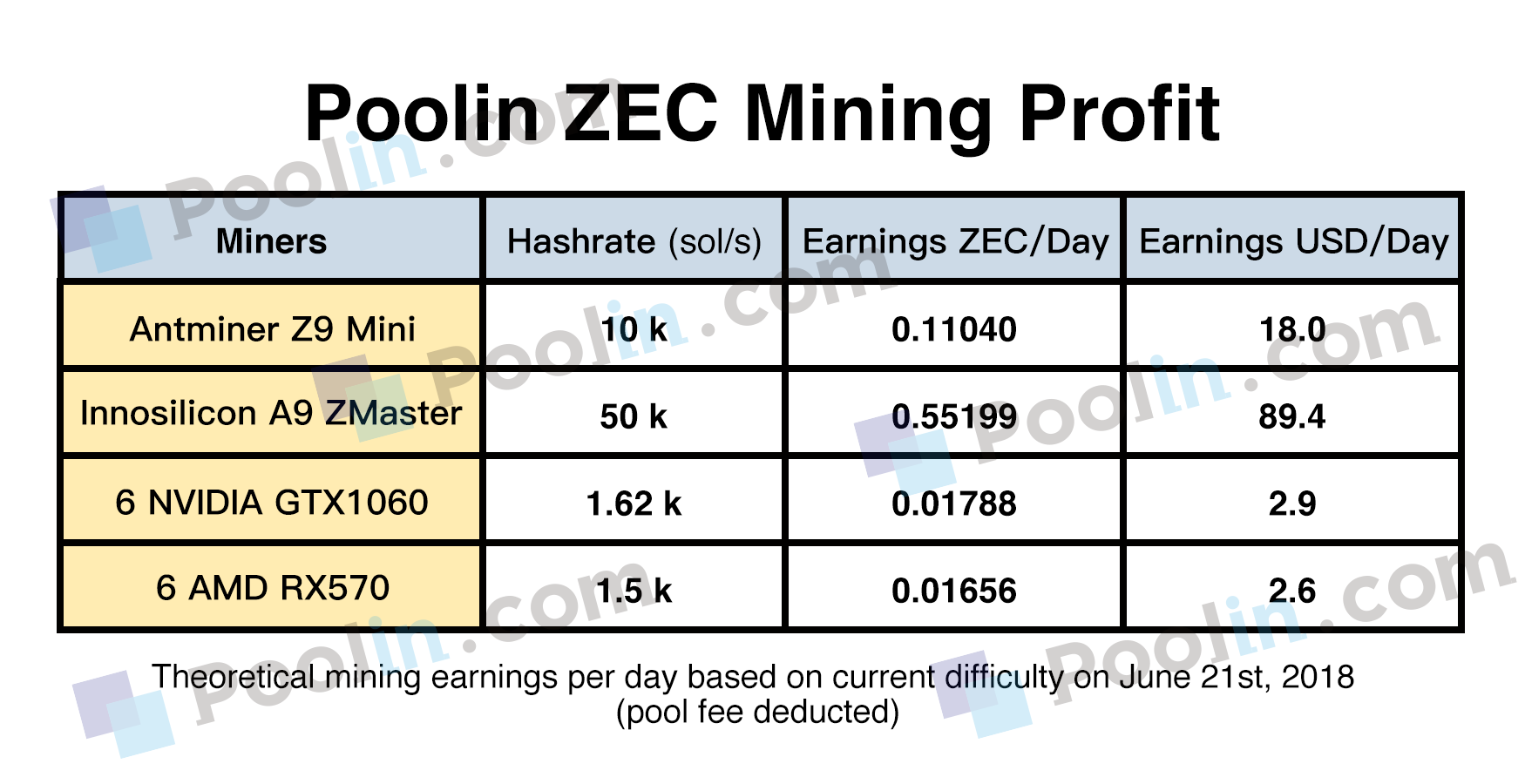 More details about Poolin.com of ZEC and mining, welcome to send us emai (support@poolin.com) and Twitter (twitter.com/offcialpoolin).
Poolin will be always there for you.