Recently, users continuously reported that mining address resolution failures had resulted in mining failures. After troubleshooting, all users who had the problems were using 114.114.114.114 as DNS.
Data transmission of mining is based on network. At the same time, DNS plays an important role in the interaction between mining pool and miner. So it is particularly crucial to choose a stable and secure DNS.
At present, official website of 114.114.114.114 has been stopped for maintenance. In addition, the following problems will occur when using 114 DNS:
Instable - Instability will cause a consequence that miners continuously reconnect to mining address. Hashrate is seriously affected and miner is damaged.
Technological backwardness - Server cannot load the pressure brought by the high DNS resolution traffic. Then the server is easy to be attacked.
Unable to quickly synchronize the latest parsing records and meet intelligent parsing requirements, which may lead to a consequence that miner cannot connect to optimal mining pool node, connection performance is instable, rejection rate is increased, and hashrate is insufficient.
Push ads for users - It is tricky for users to detect.
To avoid the above issues, the following DNS is recommended.
Overseas users (choose one of the following DNS)
1.1.1.1 (Cloudflare DNS)
1. Fast 2. Protect privacy 3. Support encryption
8.8.8.8 (Google Public DNS)
1. Safe and stable 2. Fast speed
Chinese users (choose one of the following DNS)
119.29.29.29 (Tencent DNS)
119.28.28.28 (Tencent DNS)
1. Fast 2. Accurate parsing 3. Large number of users
223.5.5.5 (Ali Cloud DNS)
223.6.6.6 (Ali Cloud DNS)
2. Timely response 3. Transmission is stable 4. Export optimization
1. What is a domain name?
For example, address like www.dns.com could be called domain names.
2. What is DNS?
Domain Name System (DNS) is a core service of Internet. As a distributed database that can map domain name and IP address to each other, it can make accessing Internet more convenient. Most Internet services rely on DNS to work. Once DNS goes wrong, Web sites cannot be connected.
IP addresses must be used in order to browse websites. We can establish a mapping relationship between domain name and IP address through DNS protocol. DNS protocol helps us resolve domain names into IP addresses, so it is unnecessary to remember the complex numbers.
example:
The name of a website is www.zhenhao.com
Its IP address is 192.168.176.19
The role of DNS is to let us remember that zhenhao.com can access 192.168.176.19.
3. How to check current DNS?
To view current DNS, you can use the following three methods: command prompt tool, computer network settings, and miner backend.
1. Enter Command Prompt and type nslookup, then press "Enter" button. The string of numbers after Address is DNS.

2. "Settings"-"Network and Internet"-"WLAN" / "Ethernet"-"Network and Sharing Center-" Connection "-" Details "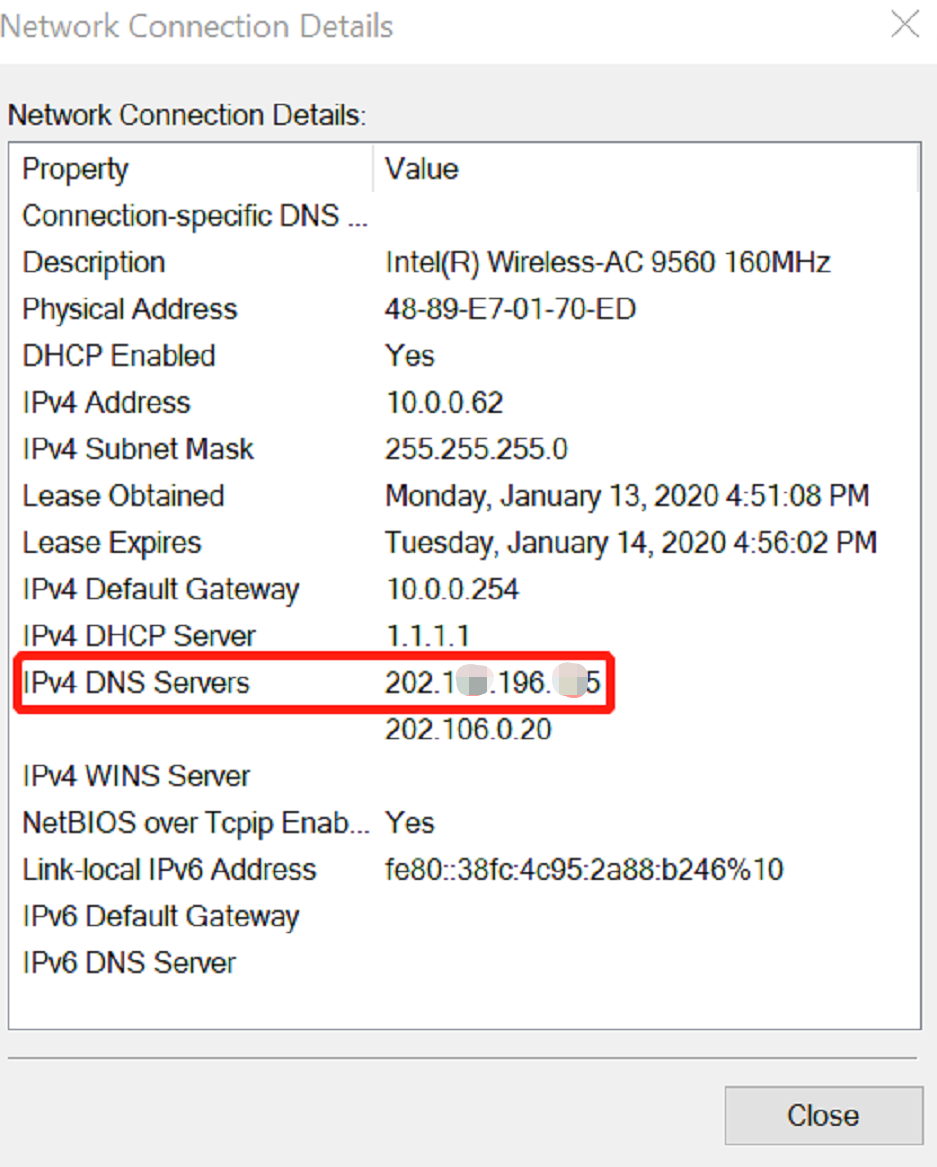 3. View DNS Servers on Miner Backend Network.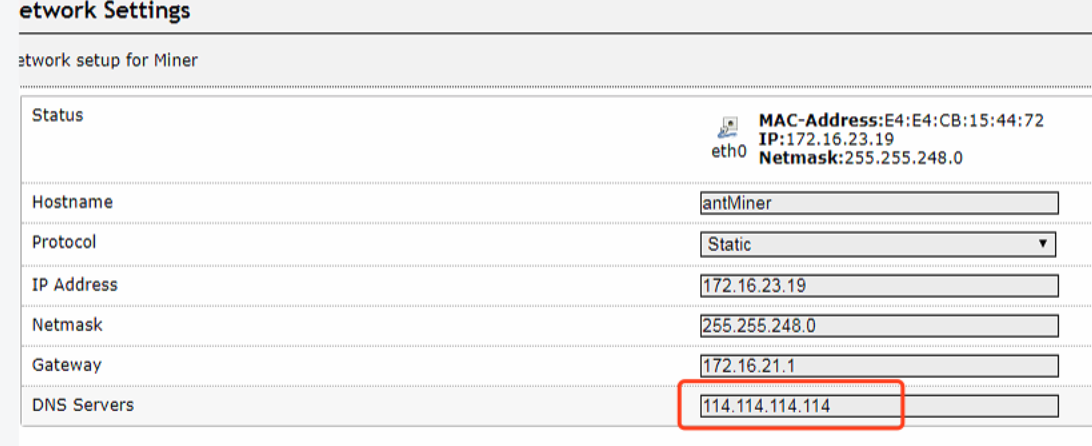 4. How to modify DNS?
There are three ways to modify DNS, which are router modification, PC modification and miner backend modification.
Router modification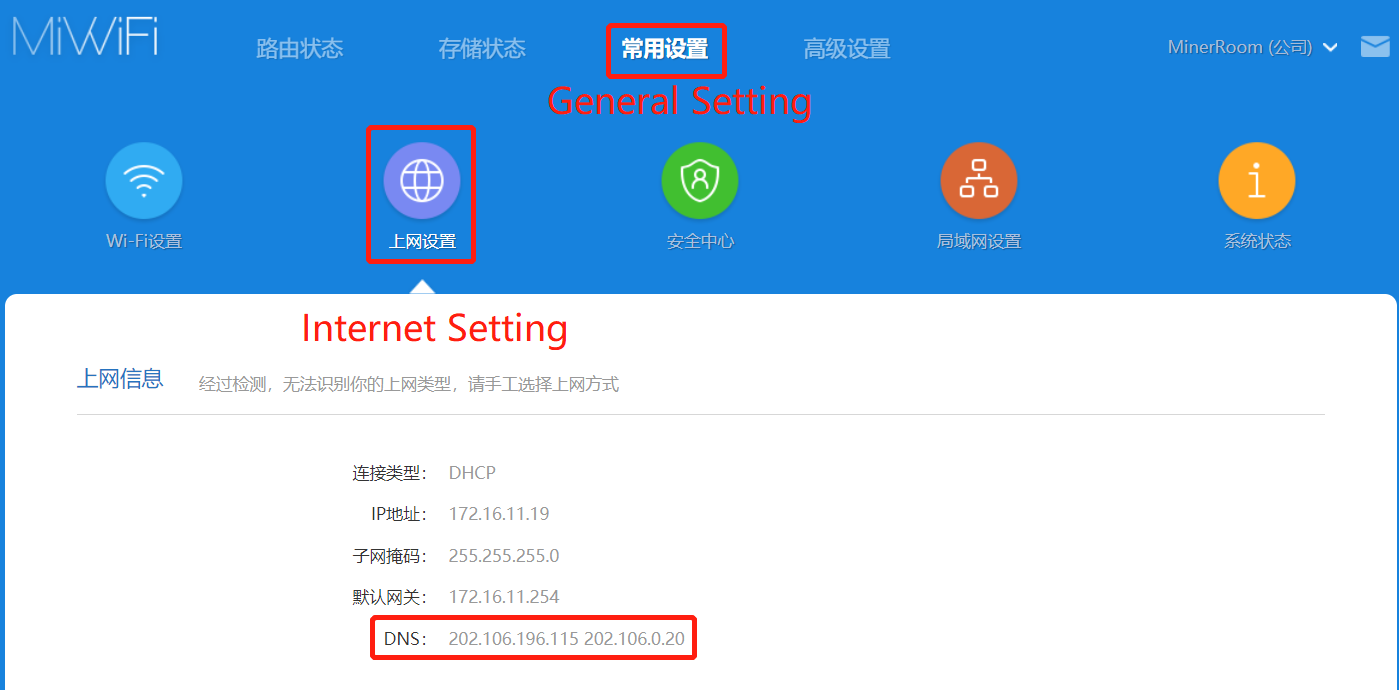 PC modification (WLAN)
"Settings"-"Network and Internet"-"Wi-Fi"-"Network and Sharing Center"-"Connections" (click on the network being linked)-"Properties"-"Internet Protocol Version 4 (TCP / IPv4) "—" Properties "—"Use the following DNS server addresses" — "Set DNS addresses"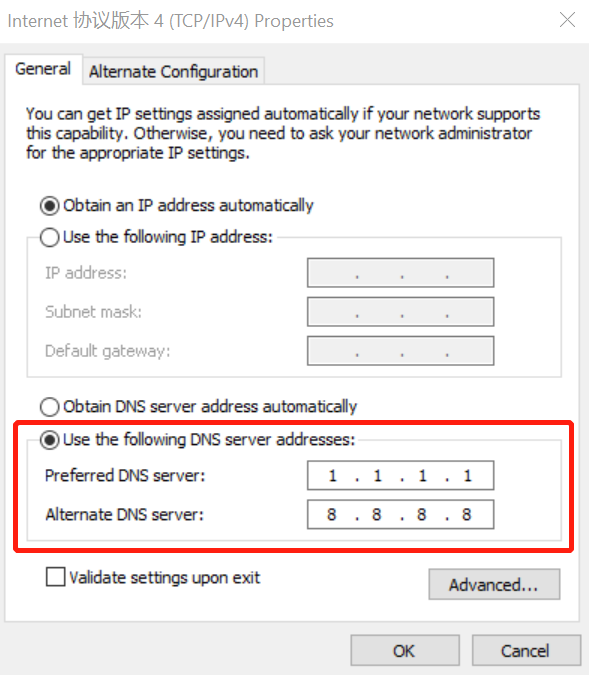 Miner backend modification (take antminer as an example)
There are two types of miner IP.
DHCP: "Dynamic IP", IP address could be set automatically, but IP of miner will change. It is difficult to spot problems.
Static: "static IP", IP address could be set manually, and IP of miner will not change, it is easy to spot problems.
(Miner defaults to DHCP mode)
1) Enter the miner background and click Network.

2) Click DHCP, then choose Static.
3) Set miner information.
4) Click Save&Apply.