Handshake is a public blockchain that focuses on decentralized domain name registration, authentication, and analysis.
Now we can use the following miners to mine HNS, including Goldshell HS3 SE, Goldshell HS1 PLUS, Goldshell HS1.
(The official website for Goldshell: https://www.goldshell.com/zh/home/)
For more details of miner hashrate, power consumption, Break-even and so on, please visit Poolin website.
Here we will take Goldshell HS1 as an example to introduce how to set up the miner and start to mine HNS.
What You Need to Know before Using Miners:
1. This model is only for HNS mining.
2. PSU output power is recommended to be 20% higher than the power consumption of miner;
3. The router or network switch you are using to get connected with miners shall be ones without POE;
4. Miners can only be connected to router or network switch with wired connection;
5. Recommended operation temperature: 10-35 °C;
6. Recommended operation humidity: <65%;
7. Measures shall be taken to protect miners from dust, cax or so, otherwise hashrate board may be in corrosion and heat may fail to be dissipated;
8. Google or FireFox browsers are recommended to signin miner backend.
PREPARATION
Before setting up Goldshell HS1, you need to make sure whether everything is ok and ready.
Tools needed: PSU, PSU power cable, miner, network cable, a personal computer for operation.
A: Check the Miner
1. Package inspection. After receiving a new miner, please make a package inspection first to check whether the package or the miner inside is damaged. If yes, please take photos and contact customer service of miner producer;
2. Miner inspection. Please take miner out from package and then check whether there's deformation or damage in miner, fan, cable, fan cable etc. If yes, please take photos and contact customer service of miner producer;
3. Heat sink inspection. Inspect from both the front and back fans to check whether heat sink is disconnected. If yes, please take photos and contact customer service of miner producer;
Note: as computing boards are put in card slot chassis, you may hear some sounds by shaking the miner, which is a normal phenomenon. And don't worry about it.
B: pool website, visit https://www.poolin.me/ and register an account
二、Windows Users Prerequisites:
1. Download STM32 serial driver STSW_STM32102_V1.5.0.rar. Select your OS version driver to install.
2. Download supported miner softwares (two options):
Option1: Goldshell Miner version 1.0.4 or above: (Windows only)
https://github.com/goldshellminer/HS1/tree/master/miner

Option2: Handyminer CLI&GUI (Windows, Linux, MacOs)
https://github.com/HandyMiner/HandyMiner-Goldshell-CLI
https://github.com/HandyMiner/HandyMiner-Goldshell-GUI


3. Connect the hardware in sequence
A. plug in the power cable.
B. Connect the HS1 or HS1-PLUS miner with USB cable to computer

4. Configure the mining pool parameters.
Open Goldshell Miner,click the mining pool setting icon, input the url of the pool, workername, and worker password (normally "x", not your pool account password)


For example, you need to fill the contents as below:
Pool URL: hns.ss.poolin.me
Port: 443/1883
User: (Your sub-account name)
Password: x
5. Start to mine HNS
Click the start mining icon and observe the hashrate, if it reaches up to 50GH/s or 105GH/s(tolerance is -+ 5%), then the miner is operating normally.

6. Double check your hashrate
Login https://www.poolin.me/, click "Dashboard", and then click "Sub-account management", and check if your miner is working normally.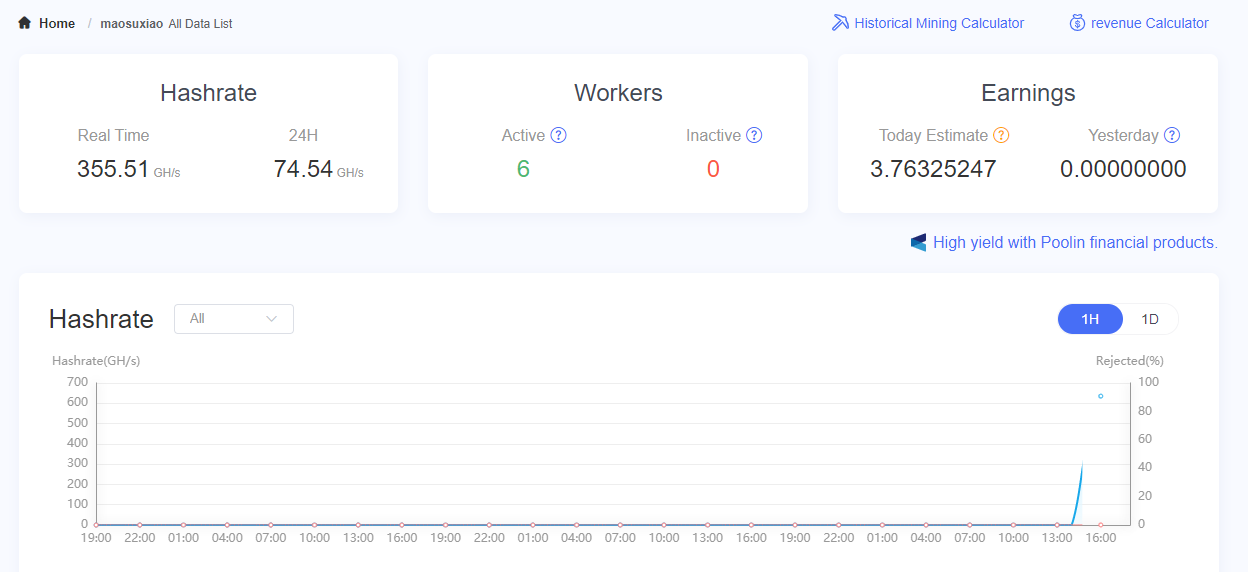 7. Switch the pool
Choose switch the pool button and re-enter the new pool url.
Please contact us if you have further questions.
Our email: support@poolin.io