Dear Poolin.com Users,
We launched "Pool Account" in Poolin.com on Feb 8th 2021. By transferring your everyday mining profit into Pool Account, you can get extra mining interest with 2.5~4.0% APY.
Why to use Pool Account?
Hodling is the attitude and Pool Account helps you have more crypto to hodl
One-stop asset management solution is provided here to help you hodl and gain profit easier.
BTC, LTC, ZEC and ETH are supported. Every interest counts.
How to use Pool Account?
Visit poolin.com and click Dashboard. Then you will see the second page, click Sub-account Manage, Setting, Modify Address.


On the page of address modification, select Receive with Mining Pool Account. Then all your setting process has been completed. Just save it and waiting for your mining interest.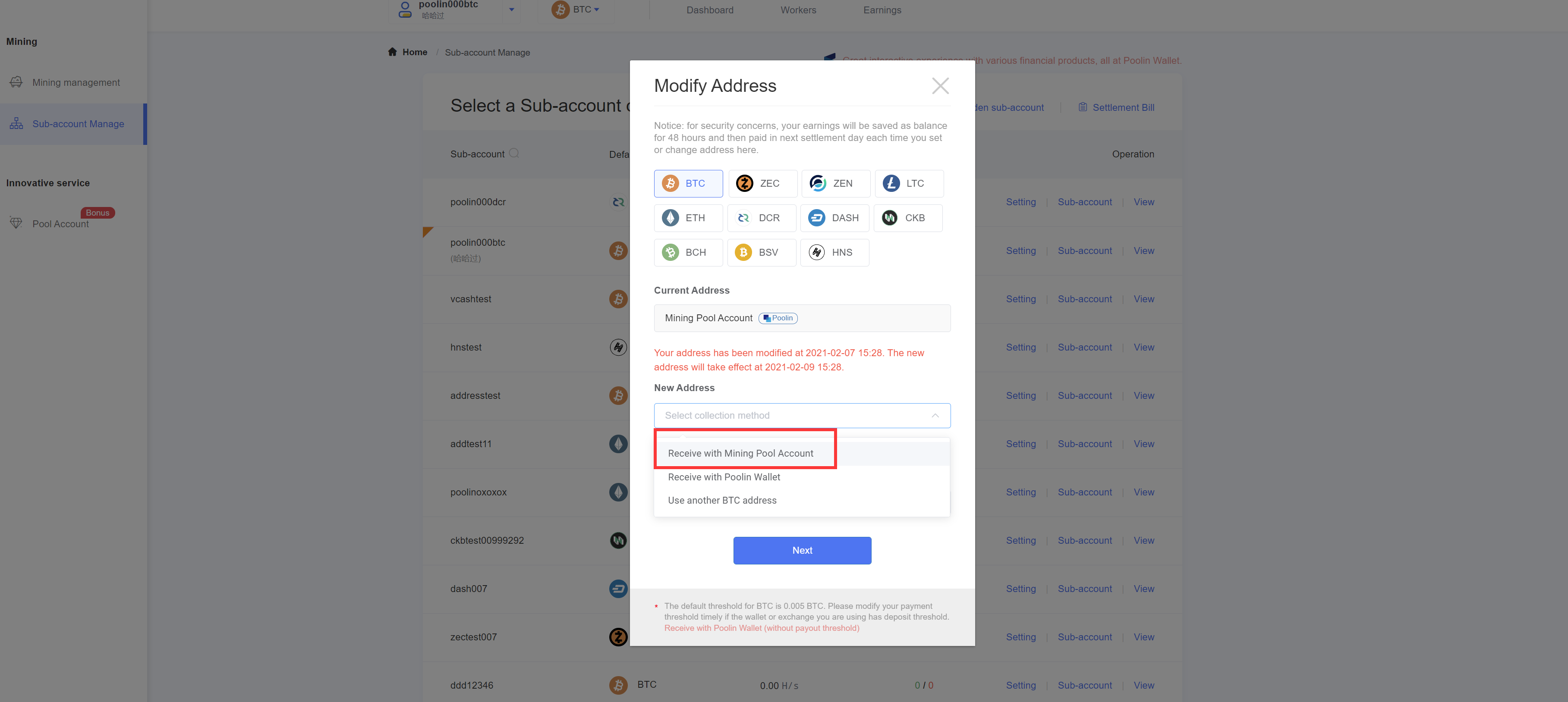 For the detailed records of your mining profit and interest, you can follow the steps to view details: Pool Account.


Q&A
1) After transferring mining profit to Pool Account, will the outstanding balances in pool be transferred?
Yes
2) After transferring mining profit to Pool Account, when will I see mining profit in Pool Account?
After changing withdrawal address to Pool Account, the payout process of mining profit will stop for 48-72 hours. After the address becomes valid, mining profit will be paid to Pool Account at around 2:00-4:00 UTC.
3) Do I need to do KYC to transfer the assets from Pool Account to other wallets?
No.
4) Do I need to pay transaction fee by withdrawing assets from Pool Account?
Yes, it will be collected according to network status if it is sent to other wallets.
5) When will the mining interest be calculated?
It will be calculated at the moment the mining profit goes into Pool Account.